Introduction
Taking an online nail course is worth trying.  There are so many benefits to taking nail courses on the web.
Some of the reasons to get a nail course online includes 
1. It's convenient
You can study on your own time whenever you want without having to commute to a classroom. Many programs are self-paced, so you can go as fast or as slow as you'd like.
2. it's affordable
Online courses are often much less expensive than traditional programs. Some are even free. You'll save money on gas, parking, and childcare costs too.
3. Access to latest digital learning tools
Another perk is that you'll have access to the latest digital learning tools. Things like video tutorials, interactive quizzes, virtual simulations and more. These tech-forward teaching techniques can enhance your understanding of new skills and concepts.
4. Build more experience 
You'll also build valuable experience with online learning that will serve you well in our increasingly digital world. The ability to find information, connect with others, and complete tasks on the web is a must-have skill in today's nail industry.
5. Online certification 
Finally, earning an online certification in nails shows your dedication and competence to employers and clients. It validates your knowledge and skills, which can open up more job opportunities and higher pay.
Top 5 Free Online Nail Technician Courses
Below are five of the top free nail tech courses:
1. Beauty Schools Directory
This website offers a free nail technician certification course. It covers nail care basics, manicures, pedicures, nail diseases and disorders, and nail salon business practices. At the end of the 14 modules, you'll take an exam to earn your certification.
2. Goodwin College
Through Goodwin College's open courseware, you can take their Nail Technician Certification course at no cost. It teaches you proper sanitation and disinfection, nail shapes and lengths, natural nail care, acrylics, and nail disorders. You'll build technical skills through interactive exercises and earn a certificate of completion.
3. Ed2Go
Ed2Go offers an interactive online Nail Tech course where you'll learn about natural nail care, nail disorders, sanitation, manicures, pedicures, acrylics, and nail salon business practices. The course has 12 lessons, online discussions, and a final exam. Earn a certificate of completion to show your new skills.
4. GotoNailsSchool.com
This popular site has a free nail technician course with video tutorials, workbooks, and chapter quizzes. Topics include natural nail care, manicures, pedicures, sculpted nails, nail disorders, and salon management. Successfully complete all materials to receive your nail technician certification.
5. 360 Training
360 Training offers a free Nail Technician Certification course that covers essential topics for beginners. Through interactive lessons, you'll learn about natural nail care, disorders, sanitation, manicures, pedicures, acrylics, nail shapes, and the salon business. Earn your certification after passing the final exam.
READ ALSO: What is a Blue Nile Credit Card?
What Will I Learn From a Free Nail Tech Course?
You'll learn the basics to get started as a nail tech, including:
1. Nail Care and Treatments
You'll study natural nail care, manicures, pedicures, nail treatments, and enhancements. This includes learning proper sanitation and disinfection techniques to keep tools and work areas clean. You'll also learn massage techniques to relax your clients' hands and feet during treatments.
Manicures: shaping and polishing fingernails
Pedicures: shaping and polishing toenails
Enhancements: tips, wraps, overlays, sculpting, UV gel.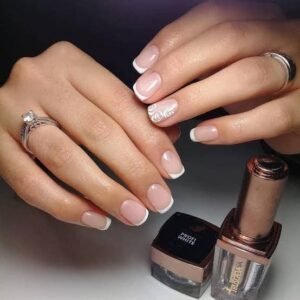 2. Nail Anatomy and Disorders
It's important to understand the parts of the natural nail and surrounding skin. You'll learn to recognize common nail disorders and infections to determine if a treatment is appropriate or if the client should see a doctor. Things like nail fungus, ingrown nails, and skin conditions around the nails.
3. Safety and Regulations
Proper safety, sanitation, and infection control are crucial. You'll learn disinfection procedures, safe use of chemicals and electric files, and how to properly ventilate your workspace. You'll also study state board regulations for nail technicians to prepare for licensing.
4. Business Skills
Many courses provide an overview of the business side of nail technology. Things like building your portfolio, finding a job or opening your own salon. You may learn about customer service, appointment setting, retail sales, and general salon operations.
While a free online course can teach you a lot, hands-on practice is also important for mastering nail skills. Look for opportunities to intern or apprentice at a local salon.
READ ALSO: Stickley Furniture Credit Card
Finding the Best Course for Your Needs
Finding the right online nail tech course for you depends on your current skills and the certification or career path you're interested in. There are many free options to choose from, so take some time to explore and find one that fits your needs.
Basic courses
If you're just getting started and want to learn the fundamentals, look for an introductory or beginner nail course. These courses usually provide an overview of natural nail care, manicures, pedicures, nail disorders and anatomy. They teach essential skills like shaping nails, cuticle care and hygiene practices. Courses like Nail Care 101 from 365 Careers and Introduction to Nail Technology from Udemy are great for nail newbies.
Certification prep
Do you want to become a licensed nail technician in your state? Look for a course that prepares you for your state board exam. These comprehensive programs cover all areas tested on the exam like sanitation and disinfection, manicures and pedicures, nail tips and wraps, acrylics and gels. Some highly-rated options include Beauty School 101 and Online Nail Technician Certification from American Beauty College.
Specialized techniques
Once you've mastered the basics, improve your skills with courses focused on popular nail treatments like:
Acrylic or gel nail application and removal
Nail art and design using brushes, stamps, foils and gems
Electric file use for shaping and buffing nails
Shellac or dip powder nail color application
Some courses that teach trending techniques include The Secrets to Beautiful Nails from Udemy, Gel Polish Basics from Nail Care HQ and Nail Stamping 101 from Pretty Actions.
Ways to Apply Your Skills After Certification
Here are some options to consider:
1. Work in a Salon
Many newly certified nail techs find work in an established nail salon. This allows you to gain valuable on-the-job experience with the guidance of more seasoned technicians. You'll start by performing basic manicures and pedicures, then progress to more advanced nail services as you build up your skills. With time and practice, you can work your way up to a higher pay rate and potentially a managerial role.
2. Open Your Own Salon
If you're entrepreneurial, consider opening your own nail salon. This allows you to be your own boss and set your own hours. However, it also comes with more responsibility. You'll need to find a retail space, purchase high-quality equipment and supplies, build up a loyal clientele, and handle all business operations. Startup costs can be high, so make sure you develop a solid business plan to increase your chances of success.
3. Specialize in a Nail Service
Rather than offering a wide range of basic services, you may want to specialize in a particular area of nails like natural nail care, acrylics, gels or nail art. Becoming an expert in one niche can help set you apart and allow you to charge higher rates. You may be able to find work in a high-end salon that focuses on your specialty or build your own freelance business.
4. Do Nails from Home
If you prefer a flexible schedule, consider offering nail services from your own home. You'll need to make sure you follow all health and safety regulations for a home-based salon in your area. Let your existing clients know you're now working from home and spread the word on community Facebook groups and Nextdoor to build up your business. Keep your costs low by only investing in essential equipment to get started.
READ ALSO: Traffic Marshall Courses Online
Conclusion
As one who is interested in free online nail courses and training, with dedication and practice, you can turn your new online certification into a successful and rewarding career.